Now they're planning the crime of the century
Well what will it be?
Read all about their schemes and adventuring.
It's well worth a fee.
So roll up and see
How they rape the universe
How they've gone from bad to worse.
Who are these men of lust, greed and glory?
Rip off the masks and let's see.
But that's not right – oh no, what's the story?
Look, there's you and there's me.
— "Crime of the Century," Roger Hodgson and Richard Davies (Supertramp)
— © Universal Music Publishing Group
The sleeve for a popular record album from 1979 contains graphics elements that suggest foreknowledge of the tragic September 11, 2001, terrorist attacks on New York City.
The number one pop album during the summer of 1979, Supertramp's Breakfast in America, the band's sixth album, was released on March 29, 1979 (the Georgia Guidestones monument was completed 360 days later on March 22, 1980).
Breakfast in America was recorded inside a Masonic temple in 1978.
Next stop was Studio B at the Village Recorder in West LA, housed within a Masonic temple and featuring a 48-channel Harrison console, as well as two Ampex 1200 24-track machines. The band members all gathered there on the first day, yet Peter Henderson didn't show — while driving to the studio from Topanga Canyon, he and his new wife were involved in a head-on collision with a drunk driver. Fortunately, nobody was too badly injured, and Peter eventually turned up at the Village Recorder with two enormous black eyes. "I looked like I'd been in the ring with Muhammad Ali," he says. "It wasn't the best of starts, but we were very lucky to get off so lightly."
The album's cover received the 1980 Grammy Award for Best Recording Packaging. The front cover bears an aerial view of the New York City skyline as seen from an airliner passenger window above the Statue of Liberty; however, the buildings are recreated using kitchen items and Lady Liberty is a diner waitress named "Libby" holding a glass of orange juice on a platter in place of a torch. The cover can be seen below (image courtesy Wikipedia).
Reflecting the image yield's the following: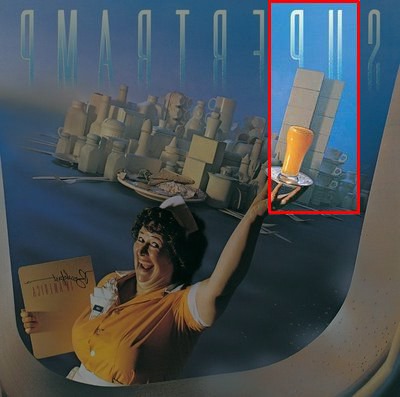 Not only does "Libby" appear to be drawing attention to the Twin Towers, but hovering over the Towers is the number "911." This bizarre and apparently intentional aspect of the Supertramp record sleeve was first reported on QFF.
If everyone was listening you know
There'd be a chance that we could save the show.
Who'll be the last clown
To bring the house down?
Oh no, please no, don't let the curtain fall.
— "If Everyone Was Listening," Roger Hodgson and Richard Davies (Supertramp)
— © Universal Music Publishing Group